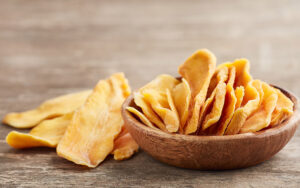 Our newest offering is dehydrated mangoes, a fruit beloved throughout India. Mango is India's national fruit and is a famous cultivator throughout the world. Uttar Pradesh ranks first in mango production with a share of 23.47% and the highest productivity. Praemium ACE Foods works with a number of farmers there in order to provide a variety of the most popular dehydrated fruit, including Alphonso, Kesar, Dasheri, and Badami dried mangoes.  
Indian mangoes come in various shapes, sizes and colors with a wide spectrum of flavor, aroma and taste. A single mango can provide up to 40 percent of daily dietary fiber needs. It is also full of potassium, beta-carotene and antioxidants, a veritable powerhouse of nutrition. 
Dehydrated mangoes ship easily and are safe in long-term storage conditions, an advantage for buyers feeding hungry communities over a long period of time.  
Dehydrated Mangoes Specifications:
Country of Origin-India
Dried mango from specially ripened fruit that are stored, washed, pealed, de-stoned, sliced, and then dried.
Intended Use Snack for Human Consumption
Ingredients Mango Fruit Only.
No sugar added.
No SO2 Organoleptic
Specifications Flavour: Typical mango Flavour,
No off taints
Colour – Yellow to Dark Orange Texture:
Firm but not hard or tough. Moist but not soggy.
Physical Specification Length: Slices 6 – 9 cm
Chunks 2 – 3 cm
Width: 15 – 30 mm
Thickness 2 – 15 mm
Defects: Maximum of 5% slices and chunks may fall outside the stated sized banding